This week the baby is the size of an apple! I am 15 weeks and feeling great! I actually feel like my energy is coming back! Sorry I am a day late in posting this, we have a big announcement that I was waiting on before I could post (You will see below)! Jack and I are heading to New York this week to do a little shopping, eating and site seeing. How fitting, baby is the size of an apple the week we are hitting the Big Apple :)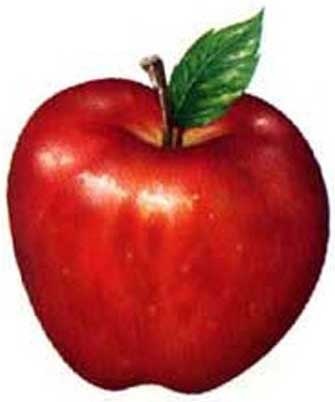 Week:
15
Cravings:
Cereal / Chicken Tenders
Clothing:
My clothes are still fitting right now. Except for my jeans. Those are long gone. I am still wearing my work pants. I bought two new shirts this weekend in Dallas and they are super cute and NOT maternity. The good news is about being pregnant right now is the style is so fitting for a growing bump. The shirts I bought are cute and blouse-y from this little boutique "Milk and Honey". Great prices and some pretty cute cloths in there. I should be able to wear both of my new tops for awhile.
Pains:
Still feeling the numbness behind my left thigh. Will be talking to the doc about it next week. I have googled and spoken with other mom's and it sounds like it's completely normal, so I'm not worried.
Sickness:
I think it's gone!
Baby's Sex:
It's a
GIRL!!!!! We went to Storkvision last night. We really wanted to find out before our trip this week so we could buy him/her a few goodies! Now we know it's a HER! We are so thrilled and can't wait to start her nursery and buy her cute clothes.
Gadgets:
My friend loaned me some great stuff this weekend. Nursing tops, her breast pump, and a breast friend (pillow thing that kind of holds the baby). I am so grateful!
Sleep:
Still waking up A LOT to go to the restroom. I'm ready for a Saturday when I can lay in bed until after 9am :)
Names:
We our going to name our little girl Dawson (which is my maiden name). We are still juggling around middle names for right now. Hopefully we will decide on one soon, because this mom loves monograms!
Things I have bought:
The books I ordered came in! I love them both. We have also received a lot of goodies in the past week/two weeks! We are so lucky to have such thoughtful friends! Dawson is already so spoiled and she isn't even here yet!
Her first OU gear from Aunt Nicole!
The Malchi's and their sweet Poodle Bo sent a wonderful ducky gift basket!
Tank thought the rubber ducky in this gift was a toy for him. Poor guy :(
Thanks Hutchison's for the ADORABLE Bully Onesie! You know our style!
Hand crocheted sweater and hat from Bits and Tom! This came all the way from their cute beach town in Pentwater!
The two books I ordered. I already read The Boy Who Cried Over Everything. Super cute and I am sure it will be a very helpful learning tool for Dawson as she enters the age of 3 and 4 :)
We picked up Mr. Tank a new toy at PetsMart the other day, he can't be left out!
He loves FROGS!